This is not the first time and 2021 GMB wasn't different. TV3 Ghana's Most Beautiful grand finale is always characterized with Police presence to ensure law and order.
Few minutes after getting the ultimate price of a crown, Anita Akufo had some words for Sarfowa. Anita's words was so audible. However, it wasn't for a bad reason.
" Sarfowa, the Police is here because of you. They will protect you just like any queen demands. Walk majestically as he guards you into your newly acquired waiting car." Anita Akufo told Sarfowa the 2021 winner.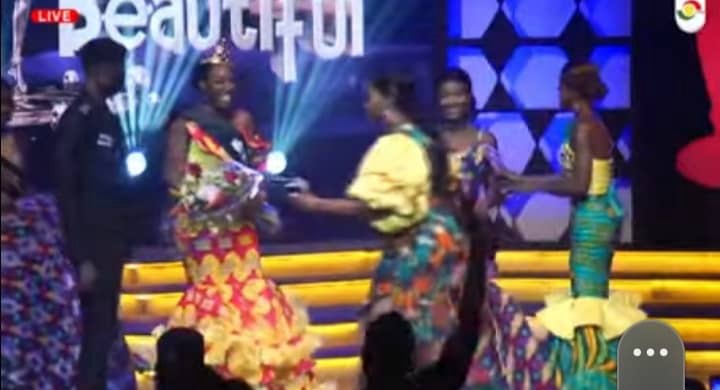 The Police Ready To Send Sarfowa To The Car Park
Before she could finish talking, three others also joined the guard. Sandwiched by the police guard, the police picked Sarfowa into her brand new waiting car.
You could hear the chants of "Kumapem a Apem beba" slogans at the background. Upon reaching the waiting car, the policemen opened the vehicle for her. Sarfowa waved a little, bowed to thank the Police and started a test drive.
The 2021 Ghana's Most Beautiful pageant saw the Ashanti Regional rep Sarfowa as winner. Setor from the Volta Region was first runner up. In all, it was an emotional and exciting journey.
READ ALSO: VIDEO: "If I die before you meet me, know that your daddy is a hero" – Funny Face message to his kids