Wednesday, December 11, was a very good day for punters according to a conversation on Twitter.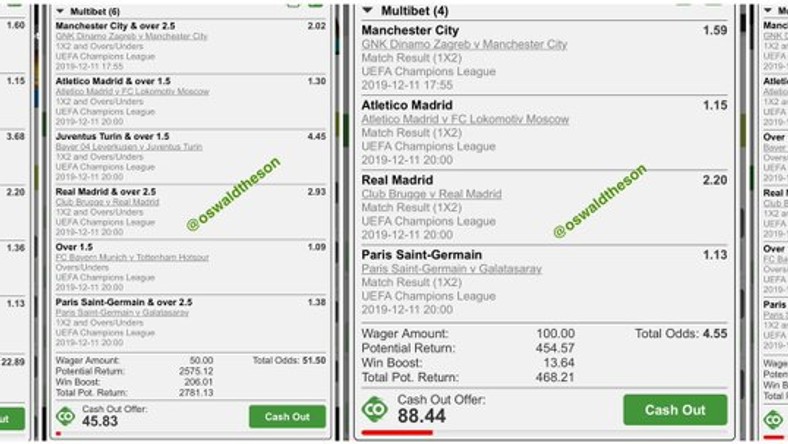 Oswald Odds: Over 20,000 Ghanaians join a Telegram group for betting tips
READ MORE: If You Claim To Be Single Then Return The Cars, Cash And House I Gave You After Marrying My Daughter – Mmebusem's mother-In-Law Threatens(+Video)
The final group games of the UEFA Champions League were played with Real Madrid, Bayern Munich, Manchester City and Juventus all in action.
After the games ended, people started talking about how it was a good business day in the betting world as they shared their winning stories.
One guy who has the username @oswaldtheson stood out among all the people posting their betting slips on their timelines. Oswald, whose bio reads not an Osofo, banker, digital solutions architect, budding lawyer, rapper and founder.
Oswald posted 4 different betting combinations and all the slips had impressive wins.
Moments after his slips went viral, the entire Ghana Twitter community started asking for more of Oswald's betting tips.
READ MORE: Grammy-Nominated Artist Stonebwoy And His New Single With Beenie Man

He then created a Telegram page to give his followers the tips they so much desire. Within the first few hours, Oswald had over 4,000 people in the Telegram group.
The number jumped to over 18,000 on Thursday morning as it keeps growing with more people joining by the minute.
Betting has been a controversial discussion in Ghana as people think gambling will not set the youth on a good path. A section of the youth also believes this is the perfect antidote to a good lifestyle in a country where the unemployment rate is high.
Here are a few conversations on the timeline.
READ MORE: Lydia Forson explains who a celebrity is