Kelvin Taylor is one of Ghana's rising self acclaimed media personalities . He has struggled and pushed his way up to the top with his incredible speech and bold advocacies against certain illegalities in the country. Kelvin Taylor who has been seen lambasting members of the new patriotic party and top government officials as well as other leaders has caught the attention of many with another statement.
Speaking today on a live video from his loud silence radio program, he once again spoke about how the electoral system has been corrupted and soaked in pure corruption. He expressed dissatisfaction as usual concerning the election results and had members of the national democratic congress to backing him as he gave some listeners the platforms to call and share their thoughts.
READ ALSO: Slayqueen goes nakk£d on live video to rain curses on ex-boyfriend for leaking her atopa tape (Video)
As usual, he attacked some government officials in Nana Addo's administration and stated that corruption has engulfed the government sector and hence, it needs to be wiped clean and it is only the Ndc who are capable of doing this.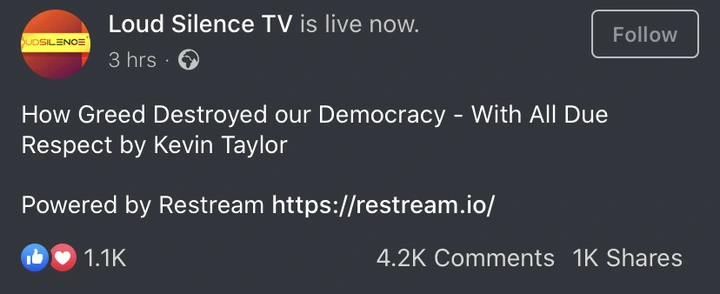 Speaking in the loud silence Tv with a theme"how greed destroyed our democracy- with all due respect by Kelvin Taylor, he mentioned that if a person finds himself sandwiched between a bunch of corrupt individuals, he should boldly tell to their faces that "I won't follow you again until things are made right"
And this is the only way to suppress corruption. But rather, people will sit around corrupt individuals because of greed in order to amass unclean wealth for themselves. Disregarding other political speeches by Kelvin, these are very wise words from Kelvin Taylor because some people indeed only see the need to amass wealth for themselves and as a result, condone to illegalities and corruption which takes place right under their noses.
Leave your comment in the comment box below.
READ ALSO: Military men storm J.J. Rawlings house shortly after his death