She is famous for her mash-ups of other people's songs which she sang with so much passion, earning her the side moniker "Mashup Queen". Even though merely a Junior High School graduate, she has dreams of furthering her education and boosting her portfolio. Growing up, she aspired to be a fashion designer but due to lack of support, she had to settle for music that came to her naturally.
READ ALSO: Maame Serwaa's Manager Reacts After Her Former Manager Accused Her Of Being Greedy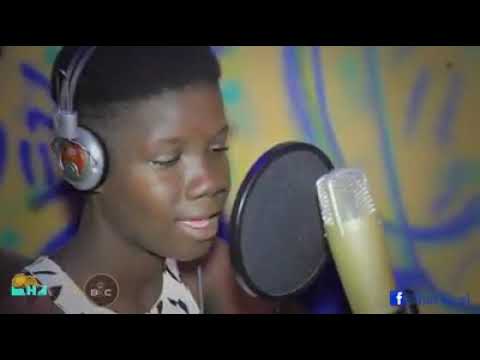 Born Ernestina Afari, Dhat Gyal hails from very humble beginnings. Her mother passed away in an accident at Tesano when she was only 15 years old. She eventually met her manager Jeremiah Adjei who was very instrumental in her rise. Unlike other acts who have to garner a large fan base by resorting to gimmicks, her following was generated organically.
In 2018 Dhat Gyal was nominated in the Unsung Category of the VGMAs. At the age of 20, she is still finding her feet due to falling back for a few years due to depression. She says it is her dream to motivate young ones like her to persevere and thrive no matter the lemonades life hurls at them. The 16-year-old teenager came from a background where all her friends got pregnant as teenagers due to lack of guidance and hardships.
READ ALSO: Joy And Happiness As Nana Agradaa Have Be Granted Bail? She Mocks Those Who Wanted Her To Be Jailed.
Ghanaian musician Dhat Gyal deletes all her music and posts on Instagram. Blogger and Journalist Zion Felix blew the alarm and couldn't skip his sadness. Many expressed their all-around sadness after they figured out what she has done. She left her fans and Ghanaians at the crossroads.
Below were some comments made by her fans. See below:
"The girl needs Counselling. This is not so ordinary. I'm sad for this beautiful young talent. Don't do anything bad to Yourself Dhat Gyal. We love you" – Akriss De Cross.
"I couldn't believe my eyes. After Struggling to get followers on Instagram, you delete your intellectual property just like that? This is sad. Somebody should contact her quickly. Dhat Gyal needs Help" – Veronica Adu Afrakoma.
A few months ago Musician Dhat Gyal boldly came out to talk about her struggling drug addiction and how her mother sadly died. She also complained about how she wants to close her social media accounts because some friends wanted to splash her naked images and videos. After that revelation, many people came out with physical, psychological, media and monetary support.
Check out Zion Felix post below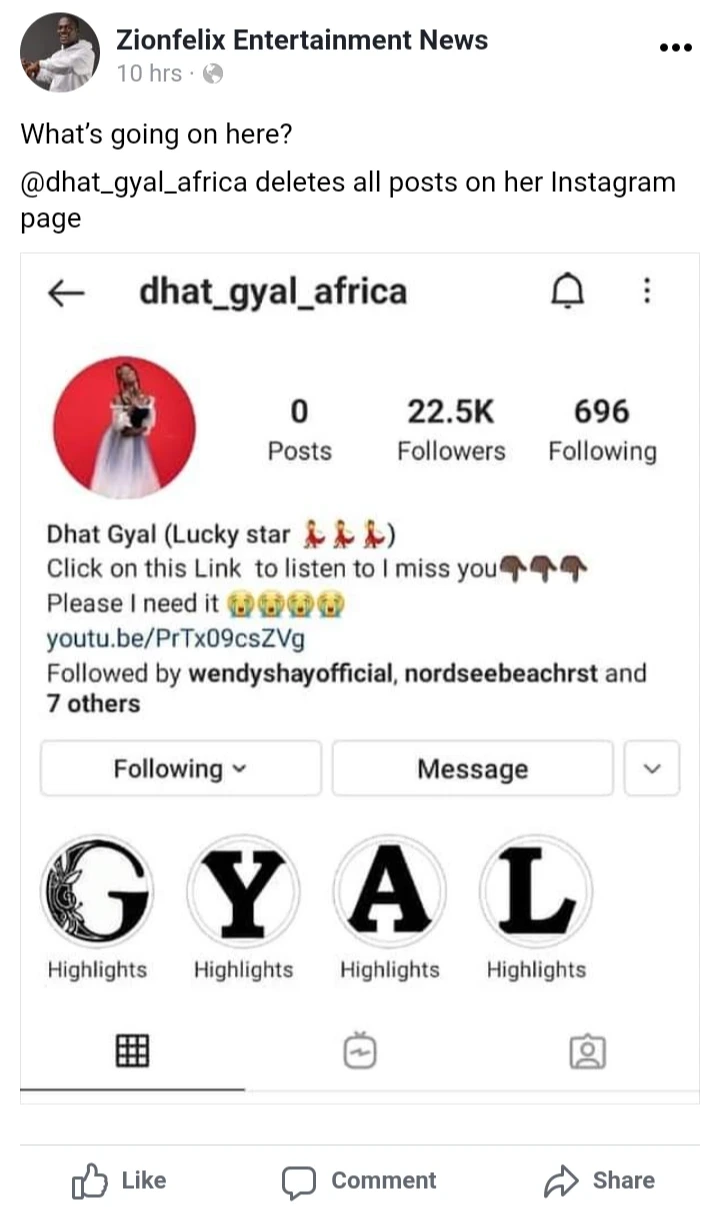 READ ALSO: Meet Fafa The Most Beautiful Ewe in Ghana Who Is Naturally Endowed With Huge Shapes (Photos)