Have you ever wondered the importance of chewing watermelon seeds? It's just simple and an eye opener that these seeds are so rich and nutritious beyond our understanding.
Watermelon seeds are one of the most nutrient-dense varieties of seeds. They are a rich in proteins, vitamins, magnesium, zinc and potassium.
Water melons carries so much nutritional varieties, but it's still the most in recognized consumable seed on the face of earth.
Someone will ask: What if the seeds starts to germinate in my stomach or on your head
Watermelon will not grow on your head or in stomach, it's not under the functionality of appendix as a disorder in the body.
Medically, it's good to eat watermelon with the seed, but agriculturally we need to preserve some of the seeds for larger cultivation of watermelon.
Let's just imagine everyone eats their seeds ,what will be left to produce another watermelon?.
So chew some and leave some for cultivation.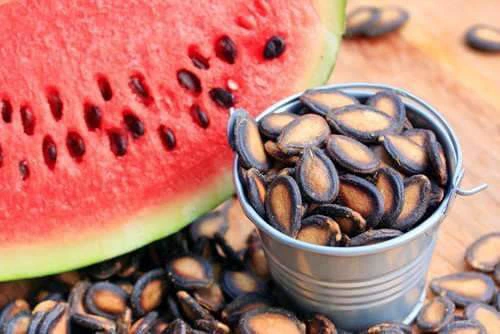 READ ALSO: Checkout Pictures Of Cardi B' "Fake" Abs That Goes Viral [Abdominal Etching]